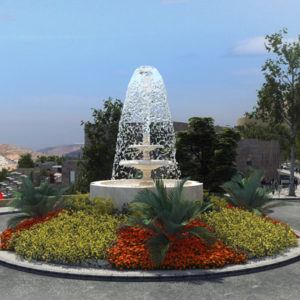 In the sought-after area in Jerusalem's suburbs, just a few minutes' drive from Israel's capital, on a mountain ridge facing exquisite Jerusalem views, lies the luxurious Ramat Givat Zeev neighborhood. The neighborhood includes approximately 400 housing units.
The neighborhood includes approximately 130 unit of private and semi-private homes from 250 square meters (2,690 sqf) and up to 450 square meters (4,843 sqf), offering a variety of exclusive villas planned by the Israel's leading architects.
The unique neighborhood attracts many young families who are searching for a liberal, luxurious lifestyle, families who belong to the religious / Chare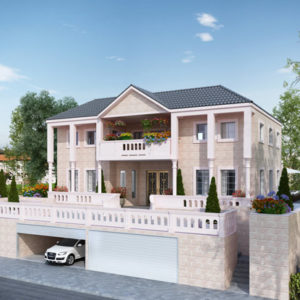 di sectors, from high social-economic societies, highly educated people, including doctors, accountants, attorneys and more… Additionally, the neighborhood attracted Anglo families from abroad who wish to make Aliyah from places like New York from neighborhoods such as the Five Towns, Monsey and Brooklyn.
The crown jewel in Ramat Givat Zeev is expressed in its special social community life. The American families who are making Aliyah to the neighborhood will ensure its unique, open lifestyle.
The educational institutions in the neighborhood are extremely promising as well. Excellent institutions will be established in Ramat Givat Zeev, places that will suit the needs of the children of Olim in the neighborhood as well as the rest of the families, guided by education professionals who will help the children integrate with the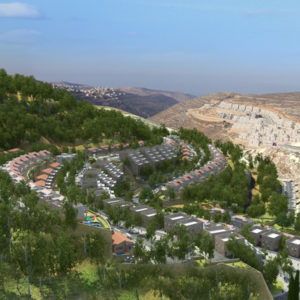 Israeli society which aspires for high level education. These institutions will be the first to provide answers for a large community who is seeking high level curriculum in the best possible way.
Beyond the education institutions, the neighborhood boasts stylish shopping areas, an advanced Country Club, all being built to provide the residents with quality time for shopping and recreational activities, including swimming pools, sports and tennis fields, gyms, huge green parks and special water fountains.
Extraordinary squares will be built in the neighborhood, with beautiful fountains, in addition to the rain-water stream at the foot of the neighborhood. A sh
ort drive in Ramat Givat Zeev's roads will provide a feeling of a luxurious environment and tranquil atmosphere, filled with greenery.
A rapidly growing number of Orthodox families from the Los Angeles and New York communities are purchasing homes in the luxurious Ramat Givat Zeev project, located on the outskirts of Jerusalem. Ramat Givat Zeev.
This unique private community, has already been dubbed the "5 Towns of Jerusalem" by the hundreds of buyers who have already purchased a property. The new neighborhood is designed to mimic the popular Long Island, New York Jewish community by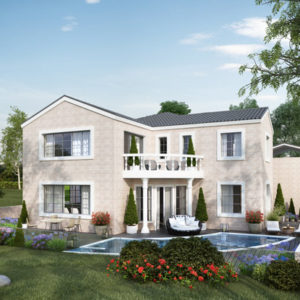 providing a wide range of services. A synagogue, mikvah and educational facilities will cater to the residents' spiritual needs. At the same time, Ramat Givat Zeev's lifestyle infrastructure is also being constructed, highlighted by lush green parks, as well as tennis and basketball courts, and a plush country club.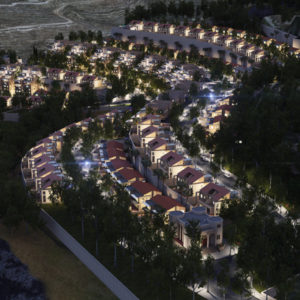 All of these aspects have transformed Ramat Givat Zeev into one of the most sought after real estate projects in metro Jerusalem.
Recently, a significant number of Los Angeles residents purchased dozens of homes in the project, which accentuates the growing popularity Ramat Givat Zeev amongst potential olim to Israel.
According to a company spokesperson for Chish Nofei Israel (Ramat Givat Zeev's real estate entrepreneurs), "we are especially proud of the fact that w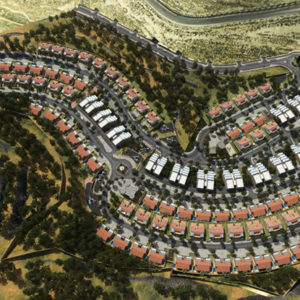 e have had a direct impact on the massive aliyah of American families to Israel."
They added, "Newcomers will find assistance in their integration into Israeli society by helping them find jobs and deal with various Aliyah issues, something that is almost unheard of today in Israel."
The soaring interest in the project is such that Chish Nofei Israel anticipates selling out all of its homes in Ramat Givat Zeev within a year. Chish Nofei Israel anticipates that demand will outstrip the supply of homes available, thus creating a lucrative market for the project's original buyers, making it an excellent investment opportunity.
source: nofei-israel