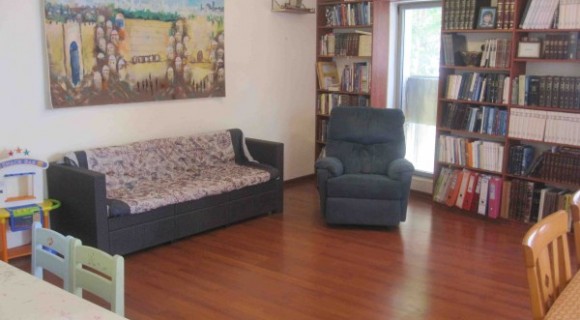 property features
Property Amenities
Air Conditioning
Sukkah Porch
Bathub
Large Dining Area
Refridgerator
Freezer
Hot Water Urn
Shabbos Plata
Meat Dishes
Milk Dishes
Oven
Stove
Washing Machine
Dryer
Crib
Bunk Beds
Linen and Towels
Wireless Internet
Phone For Incoming Calls
property details
This newly built apartment is available for the month of September/Tishrei.
A great 3 bedroom with sleeping for 7/8 people, and a Succah porch, for a very good price.
Fully equipped and furnished, AC, internet, and in a perfect location.
3 bedrooms, 2.5 bathrooms, large living room, and modern kitchen. Large and spacious rooms full of natural light.The parents bedroom has a bathroom en-suite with shower​ and two comfortable beds.The kids bedroom has a kid sized bunk bed that has a pull out bed, and option for an additional mattress for a total of 4 kids sleeping in that room, and there is a small porch off the room. Right next to the kids bedroom is a bathroom with a bathtub.
On the main floor with the living room and kitchen there is another bedroom with a trundle bed, and a guest bathroom with no shower/bath.
The Succah can seat 5-6 men in the kosher section, and another 5-6 people in the non-kosher section, or you can open the double doors and extend the table into the living room for seating of up to 30 people.
Dishes are available for Shomer Shabbos and Kashrus tenants.
Property on Map
Similar properties